Posted by Franki on: Monday, January 16th, 2012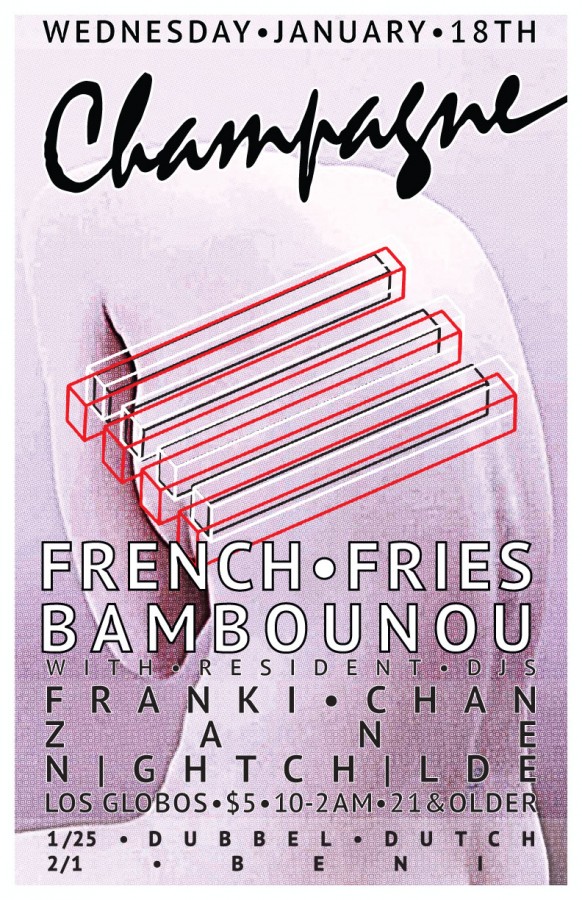 This week at CHAMPAGNE is an exciting one for us because we're getting a visit from 2 of our current favorite and game changing DJs: French Fries & Bambounou.
One of things we set out to do with CHAMPAGNE is to create a venue where the latest and most boundry pushing electronic and dance music can be showcased.  There is no finer example of this than French Fries and Bambounou.
Both hail from France and both are part of a new wave of French sound that is blowing the doors off of anything that falls under the typical 'big room', 'electro' or 'super techno' stuff that has dominated these last few years. They are pushing the envelope and including a not only a larger Hip Hop influence, but are very playful with their choice of beats and classic 808 influence. They also make a solid case the 'less is more' in that more often than not the choose to make music with sparse sounds and empty space instead of the multi-layered, crunched sounds the US dance floors have become accustomed to. These guys can easily call Canblaster, Myd, Surkin, Sound Pellegrino, Marble Players, etc as peers. If you are a fan, then this is the show for you.
Need some examples? FRENCH FRIES recent Podcast for XLR8R is fantastic! You can check it out here: XLR8R MIXTAPE
See below to listen to BAMBOUNOU's latest release from Sound Pellegrino as well.
And the best part about FRENCH FRIES playing Champagne? He wrote the theme song (Not really, but it is his latest single…)!
JOAKIM & BAMBOUNOU 'Fructose' EP preview by soundpellegrino