Posted by Franki on: Saturday, September 6th, 2014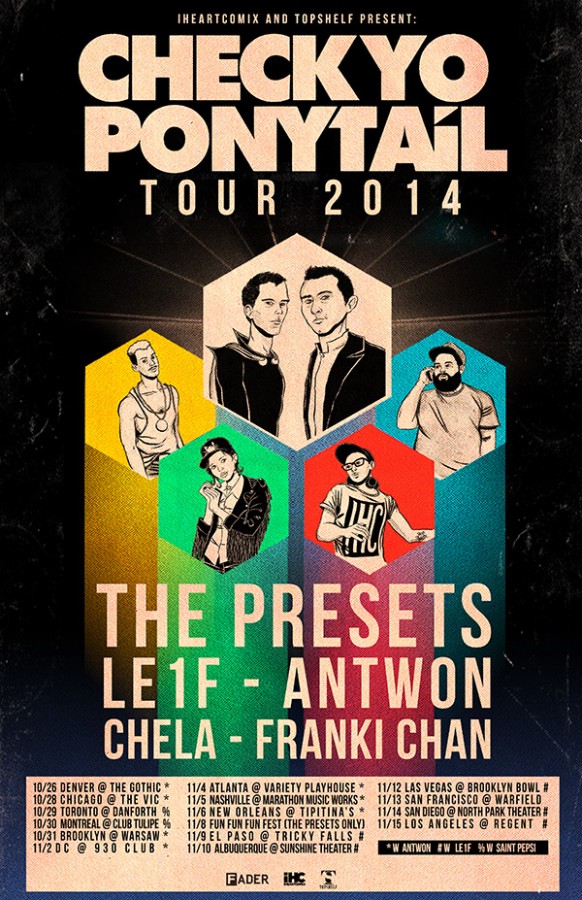 It is with great pleasure that I get to announce that I will be DJing all the dates on the CHECK YO PONYTAIL TOUR this Fall!
To be honest it's with great pleasure to announce the tour is happening at all! Ha. I've spent the last year of my life putting it together and it's a true honor for the tour to be headlined by THE PRESETS and to have such amazing artists as LE1F, ANTWON, CHELA and SAINT PEPSI all be a part of this! Make sure to check this out when we come to your city because we have some SUPER SPECIAL SHIT planned!
Watch this sweet video we made and check out the dates below!

DATES:
10/26 – Denver, CO @ The Gothic *
10/27 – Off
10/28 – Chicago, IL @ The Vic *
10/29 – Toronto, ON @ Danforth %
10/30 – Montreal, QC @ Club Tulipe %
10/31 – Brooklyn, NY @ Warsaw *
11/1 – Brooklyn, NY @ Warsaw *
11/2 – DC @ 930 Club *
11/3 – Off
11/4 – Atlanta, GA @ Variety Playhouse *
11/5 – Nashville, TN @ Marathon Music Works *
11/6 – New Orleans, LA @ Tipitina's *
11/8 – Austin, TX @ Fun Fun Fun Festival (The Presets Only)
11/8 – Austin, TX @ CYP FFF After Party / Empire # (The Presets DJ set, FREE show)
11/9 –  El Paso, TX @ Tricky Falls #
11/10 – Albuquerque, NM @ Sunshine Theater #
11/11 – Off
11/12 – Las Vegas, NV @ Brooklyn Bowl #
11/13 – San Francisco, CA @ Warfield *
11/14 – San Diego, CA @ North Park Theater #
11/15 – Los Angeles, CA @ Regent #
11/16 – Los Angeles, CA @ Regent *
* w/ Antwon
# w/ LE1F
% w/ Saint Pepsi